National Headlines
CBIC launches flagship programme "Turant Customs"
Central Board of Indirect Taxes and Customs (CBIC) has started its flagship programme "Turant Customs". Turant Customs is a mega improvement for the comfort of doing business. The curriculum has been originated at Bengaluru and Chennai to take a leap forward to take advantage of the technology for faster Customs clearance of imported goods.
Useful Notes for all competitive exams:
Chairman of Central Board of Indirect Taxes & Customs: M. Ajit Kumar.
IAF develops rescue pod "ARPIT" for evacuation
Indian Air Force has created an Airborne Rescue Pod for Isolated Transportation (ARPIT). This pod will help for the expulsion of risky patients with infectious diseases including COVID-19 from high height area, isolated and remote areas. The system has been formed as a lightweight isolation system made from aviation certified material.
Useful Notes for all competitive exams:
Air Chief Marshal: Rakesh Kumar Singh Bhadauria.
Indian Airforce founded: 8 October 1932.
Indian Airforce Headquarters: New Delhi.
Union Minister Jitendra Singh launches "COVID BEEP" app for COVID-19
Union Minister Jitendra Singh has announced the launched of an application named as 'COVID BEEP' app. "COVID BEEP" full form is Continuous Oxygenation & Vital Information Detection Biomed ECIL ESIC Pod. This application is India's 1st domestic wireless physiological parameters monitoring system facilitated for COVID-19 affected patients.
'COVID BEEP' has developed by Employees' State Insurance Corporation (ESIC) medical college, Hyderabad in collaboration with Indian Institute of Technology (IIT) Hyderabad and the Department of Atomic Energy.
---
States Current Affairs Headlines
Rajasthan Goverment launches "Raj Kaushal Portal"
Government of Rajasthan launches "Raj Kaushal Portal" and "Online Shramik Employment Exchange" portal. These portal has been generated by the Department of Information and Technology (IT) and Rajasthan Skill & Livelihoods Development Corporation (RSLDC). The "Raj Kaushal Portal" intends to improve the availability of opportunities for the migrated workers and hence acts as a bridge between industry and labourers.
Useful Notes for all competitive exams:
Chief Minister of Rajasthan: Ashok Gehlot; Governor: Kalraj Mishra.
Manipur CM N. Biren Singh inaugurates "Plant Health Clinic"
Chief Minister of Manipur N. Biren Singh has introduced "Plant Health Clinic" at the Directorate of Horticulture and Soil Conservation, Imphal. The motive behind to open the clinic is to improve the economic growth of Manipur through agriculture and horticulture. Along with the clinic, the Chief Minister also launched a mobile soil testing laboratory van.
Useful Notes for all competitive exams:
Governor of Manipur: Najma Heptulla.
Keibul Lamjao National Park is a beautiful place, located in the Bishnupur district of the state of Manipur. The only floating park in the world, located in North East India, and an integral part of Loktak Lake.
"Gairsain" becomes summer capital of Uttarakhand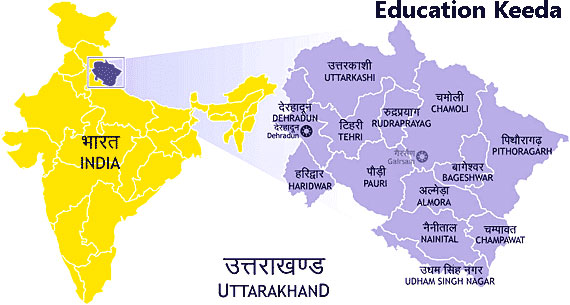 Gairsain in Chamoli district has been announced as the summer capital of Uttarakhand. The statement was made after the assent from the Governor Baby Rani Maurya was received in order to declare Gairsain the summer capital of Uttarakhand.
Useful Notes for all competitive exams:
Chief Minister of Uttarakhand: Trivendra Singh Rawat; Governor: Baby Rani Maurya.
Odisha cabinet gives state anthem status to "Bande Utkala Janani"
The state cabinet of Odisha has adopted "Bande Utklala Janani" or Glory to mother Utkala as the anthem of Odisha through video-conferencing. The anthem has been written by Kantakabi Laxmikanta Mohapatra in 1912.
Useful Notes for all competitive exams:
Chief Minister of Odisha: Naveen Patnaik; Governor: Ganeshi Lal.
MP launches urban street vendor welfare programme
Chief Minister of Madhya Pradesh, Shivraj Singh Chouhan has started Street Vendor Registration Portal http://www.mpurban.gov.in/ and "Mukhyamantri Shahri Path Vyavsayi Utthan Yojana" and transferred Rs 300 crore to urban local bodies.
Useful Notes for all competitive exams:
Governor of Madhya Pradesh: Lal Ji Tandon.
Bandhavgarh National Park is in the central Indian state of Madhya Pradesh. This biodiverse park is known for its large population of royal Bengal tigers, especially in the central Tala zone.
Andhra Pradesh launches online waste exchange website "APEMC"
On the occasion of World Environment Day, Andhra Pradesh Chief Minister YS Jagan Mohan Reddy announced the launched of Online waste exchange website of Andhra Pradesh Environment Management Corporation (APEMC).
Andhra Pradesh has become India's first state to launch a waste exchange website. Through this platform, the state government tries to preserve the environment by reaching 100% safe disposal of toxic waste, proper tracking, scrutiny as well as an audit of waste.
---
International Headlines
New Zealand declares itself free from "Coronavirus"
New Zealand has announced that the country has become free from "Coronavirus". The statement was made when the current person who was being observed for coronavirus was released from isolation and regarded as recovered. Also, New Zealand has started to lift all the coronavirus measures that were implemented in the country and move to national alert level 1 from midnight on 9 June 2020.
Useful Notes for all competitive exams:
Prime Minister of New Zealand: Jacinda Ardern.
Capital of New Zealand: Wellington.
---
---
Science and Technology
To reduce the physical contact of a nurse with COVID-19 patients a robot named as 'Coro-bot' has been developed by an engineer Pratik Tirodkar from Thane district of Maharashtra. The robot 'Coro-bot' will be operated by a special app from any location in the world based on the idea of the Internet of Things (IoT).
---
Awards
Javed Akhtar becomes 1st Indian to receive Richard Dawkins Award
Poet, lyricist and writer Javed Akhtar has admired with the prestigious Richard Dawkins Award for 2020. He became the 1st Indian to be given the honour for critical thinking, holding religious dogma up to scrutiny, advancing human progress and humanist values.
---
Miscellaneous
IIFL Finance signs Rohit Sharma as brand ambassador
India's Non-Banking Finance Companies, India Infoline Finance Limited (IIFL) has signed Rohit Sharma as its first-ever brand ambassador. Also, the organisation has launched 30-second message titled "Rohit Sharma Ki Seedhi Baat", under its first-ever campaign #SeedhiBaat with Rohit Sharma, which is a public service message advising people on safety guidelines and rules to follow during lockdown to fight Covid-19 outbreak.
Useful Notes for all competitive exams:
Chairman & Independent Director of IIFL: S. Sridhar.
Headquarters of IIFL: Mumbai, Maharashtra.
---
---